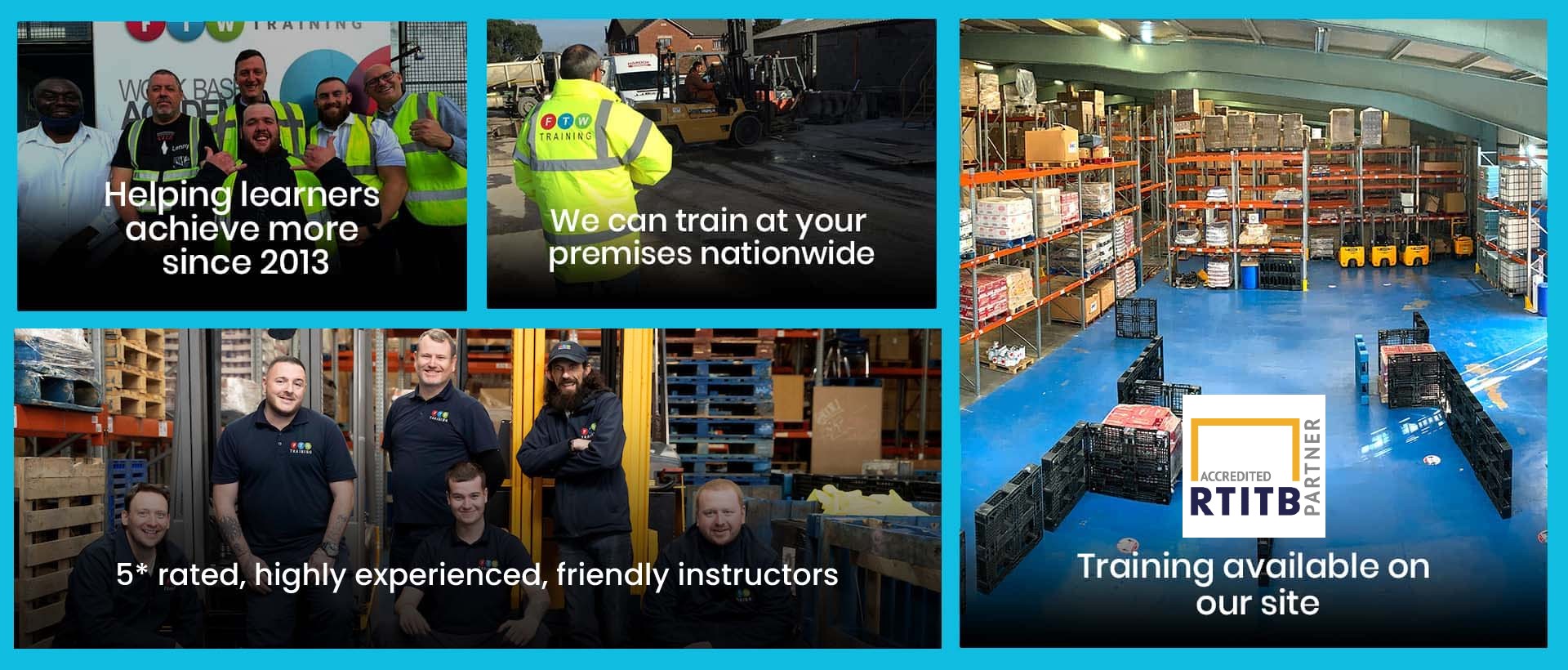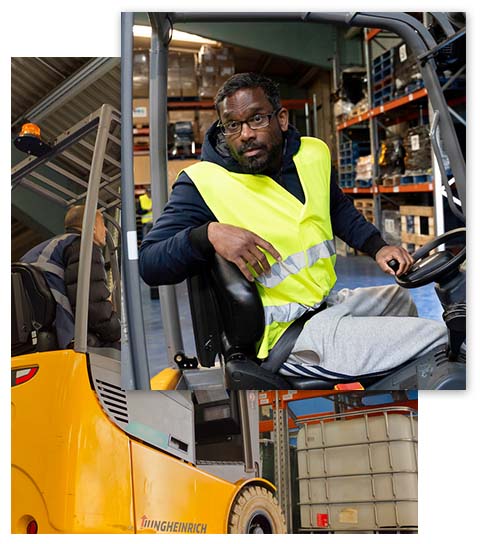 Based in the North West and operating nationwide, FTW Training is one of the leading forklift training companies in the UK today.
We have been delivering forklift training for 10 years, with a dedicated team of instructors. At FTW Training we offer peace of mind. Since 2013 we have prided ourselves on going the extra mile for our customers and ensuring that we provide the logistics sector with safe and efficient operators.
Whether you are looking to gain a forklift truck licence and have no experience, are an experienced forklift operator looking to refresh your RTITB accredited licence or want to complete a conversion course to gain another FLT licence, we are here to help.
Our courses include:

Novice training
(3 – 5 day duration)

Experienced operator training
(2 -3 day duration)

Conversion courses
(1 – 2 day duration)

Refresher training
(1 day duration)

Novice Forklift Training
(3-5 days training)
Complete beginners need more time which is why our novice courses usually run over 3 to 5 days. This includes a complete introduction to the forklift you are being trained on as well as covering all the safety issues that you might face when operating it.

Experienced operator
Forklift Training(2-3 days training)
Experienced operators may be someone who has a good amount of forklift driving experience, however they have either not operated one for a long time, or they have not held operator accreditation. Our experiences operator courses usually run between two to three days.

Refresher Forklift Training
(1 day of training)
An RTITB accredited licence lasts for 3 years. After this date it is highly recommended to undergo refresher training to ensure your accreditation does not lapse. Our refresher courses last for one day.

Conversion Forklift Training
(1-2 days of training)
You may want to widen your scope for employment by learning to operate different types of forklift machines, or your company may want to train staff on new equipment.
We have sites in the North West, strategically placed in Skelmersdale, Widnes and Birkenhead.
FTW Training centres are state of the art, fully functioning warehouses.
We also deliver a wide range of forklift training courses on our clients premises nationwide.
FTW Training
Thinking about getting your forklift licence?

Counterbalance
Forklift Training
Probably the most common type of truck in a wide variety of industries, the counterbalance has a heavy weight at the rear to help balance it when lifting goods. At the front are the forks which can be used to lift a variety of heavy objects like pallets. These forklift trucks are often seen in areas like warehouses and distribution centres. This is typically the first licence an operator would gain.

Reach
Truck Training
They reach higher than the counterbalance, up to about 12 metres and in some cases much higher. Reach trucks are most common in large distribution centres.

Pivot Steer or
BENDI Forklift Training
Also known as a Bendi or Flexi forklift trucks, these are also widely used in narrow areas like warehouses. One of the unique features of this type of truck is that the forks can swing 90 degrees to allow more manoeuvrability.

Very Narrow Aisle
Forklift Training
These are also called trilateral or bilateral forklift trucks and are designed for operating in confined spaces. One of the benefits of using these types of trucks in areas like warehouses is that you have much more space for storage which can help boost capacity. These trucks can be used to raise goods onto shelves as high as 14 metres in some cases.

Multi-Directional
Forklift Training
Also known as the Combi forklift, this is designed for handling long and bulky loads in confined spaces. Its all-wheel drive means it has exceptional manoeuvrability with the forks able to operate in multiple directions.

Pedestrian Pallet
Truck PPT Training
These are smaller machines that are designed to move pallets from one location to another in a warehouse area. They are ideal if you need space-saving machinery in your business and can be folded away and stored when not in use.

Low-Level Order Picker /
LLOP Training
LLOPs are often seen in areas like warehouses where they are used to pick up items quickly. They can be moved while elevated which makes them very efficient and time-saving.

Mobile Elevated Work
Platform Training
While not strictly a forklift truck, mobile platforms are widely used in a range of industries. Also known as basket cranes and cherry pickers, they can raise a large platform using a hydraulic lifting system. They are often used by repair workers operating outdoors at height.
Forklift Truck Instructor
Training Courses
If you want to develop your own team of forklift truck instructors, or train to become one yourself, we can help there too. We offer high-quality instructor training that runs over 10 days. This gives individuals the opportunity to learn the teaching skills that are required to deliver accredited training in-house. That can save your business money in the long term and give you access to instant training as and when you require it.


We also run a 5-day re-registration course for returning instructors and those who want to renew their licence.

As with our forklift training, these train the trainer courses are RTITB accredited and are qualifications that are accepted across the UK.
Whether you are an individual or a commercial operation, FTW Training offers a comprehensive
range of RTITB-accredited courses. Contact us today on 0151 420 3444 to find out more.