Reach Truck Training
RTITB-approved reach truck training for beginners, experienced operators and those needing a refresher or conversion course.
Reach trucks are used in a wide range of different industries and sectors including construction, retail and warehousing to name just a few.
Our accredited RTITB training course provides you with the skills and knowledge to operate these vehicles safely and proficiently.
Our courses can be accessed by individuals who want to add to their CVs and improve job opportunities or companies that want to train staff members for particular tasks.
CONTACT US
Got A Question Or Want To Book A Course?
Get in touch with us by
Fill in the contact form below
Novices:

If you've never driven a forklift truck before, we take you from a complete novice to a skilled reach truck operator in about 5 days.
Experienced operators:

Even those who have been driving reach trucks for a while can benefit from updating their skills with our one-day courses once in a while.
Refreshers:

If you've been out of the industry for some time and haven't used a reach truck, taking a refresher course is a great way to renew your certificate and licence.
Conversions: 

Our one and two-day courses are ideal if you want to convert from operating one particular type of forklift to using a reach truck in the workplace.
The courses can be delivered at your business or our premises in Widnes and Skelmersdale. All our forklift truck training courses are designed to meet HSE guidelines for rider-operated lift trucks and comply with the Health and Safety at Work Act 1974, The Provision and Use of Work Equipment Regulations (1998), and the Lifting Operations and Lifting Equipment Regulations 1998.
What Does Reach Truck Training Involve?
If you are a complete novice, the course will provide you with a theoretical understanding of the operation of a reach truck in the modern workplace as well as practical tuition. The course is delivered through a series of lectures and tutorials including DVD presentations as well as practical instruction.
A general introduction to the operation of a reach truck and the legal and regulatory framework that underpins their use in the modern workplace.

We'll get you familiarized with the operational use of a reach truck before teaching you how to use it for a variety of tasks including the loading and unloading of pallets and dealing with unloading at height.

Maintenance and hand-over protocols for reach trucks and the care of different types and sizes.

You'll become aware of the operator's safety code so that you can use the reach truck in a variety of different situations, cover issues such as weight assessment and teach you specific skills such as driving the truck on inclines.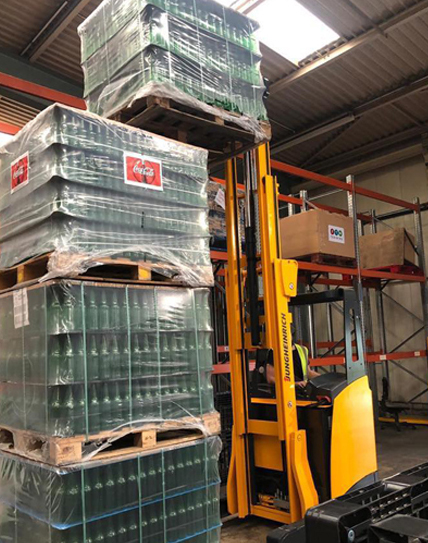 One of the differences in using a reach truck compared to a counterbalance forklift truck is that you sit on it sideways. This is a significant difference which is why you should always have a short conversion course if you want to use one in the workplace but have never driven a reach truck before.
At the end of each course, there is a theory and practical test. If you pass, you will be awarded with an RTITB-accredited certificate and ID card stating your qualification to drive a reach truck in your place of work.
FAQs for reach truck Training
Can you use a reach truck anywhere?
Reach trucks are mostly designed to operate indoors. For outdoor lifting and transportation, it's more common to use a counterbalance forklift truck as these are more stable.
What is the difference between a reach truck and a counterbalance forklift?
Counterbalance forklifts have more flexibility in how they are used in many businesses and run on electric, diesel or LPG whereas a reach truck is usually electrically powered. Reach trucks are preferred in some locations because they can reach higher levels, for example, in a warehouse, and are more manoeuvrable in tight spaces.
Can I drive a reach truck if I'm licenced for a counterbalance forklift?
There are different skills in using a reach truck compared to a counterbalance forklift and it's important to have a conversion course. These normally run over 1 day and can make sure you operate the reach truck safely and in line with current regulations.